Our August Manager of the Month, John Watson, from Scutum Group answers some questions about FFL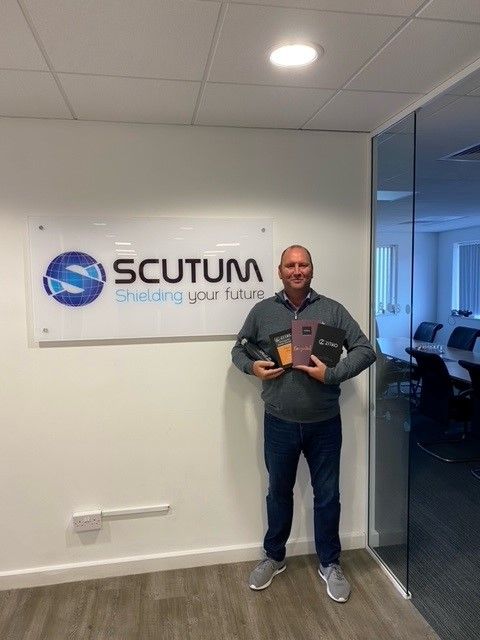 Image: August MOTM, John Watson, with his winnings.
As you know, we are mad about FFL here at Zitko, so we took the opportunity to check in with our August MOTM, John Watson, about why he joined our league and what he enjoys about fantasy football. By day John is the Managing Director at security integrator, Scutum, but is also the manager of 'Is your Motherwell' which dominated August with an impressive 386 points.
1. What do you like about Fantasy Football?
It brings people together outside of work. There is no real right or wrong but lots of ifs, buts, maybes and discussion points.
2. What got you into Fantasy Football in the first place?
I am a fully qualified FA Referee and I have played the game at a reasonable level so I have always had a love of football. I got into Fantasy Football because of FOMO, honestly. It started off with colleagues discussing the outcomes of their decisions on a Monday morning and I felt I was missing out.
3. What is the worst move you have ever made?
Nothing too major but in the first season of playing I saved all my boosts for the last week. Bad idea and not one I have repeated.
4. What are your hopes for the season?
I hope that Son comes into form for Spurs so I can include him again, he was awesome last season. But the main hope is that the winter World Cup does not jeopardise the performance of the Premier League.
5. Which players have you got your eye on over the next few months?
Definitely Son for Spurs and Haaland for Man City. I think he could break records this season.
The Zitko Fantasy Football League offers a platform where individuals from across the fire and security industry can come together and get involved in a little friendly competition each month, with some great prizes up for grabs for our top performers! Within the League, you can compete for our MOTM title, get involved with our Head to Head league and compete to be our Cup winner, plus you might see some familiar names from across the sector along the way. Did we mention there are prizes along the way, too? We'd love for you to join the League, so it's only fair for us to give you something in return.