When I last wrote to you, we were just coming out of lockdown and the industry was really starting to gather pace and I warned of increasing candidate shortages and a greater demand for skilled people. In the last 4 months we have seen that warning play out, and as the recent IHS Markit Survey for September highlights, staff vacancies are at their highest and never higher than they are in the engineering sector and candidate availability is at its lowest. The current situation of the industry can be summed up in the following 3 graphs, sourced from the IHS Markit Review for September.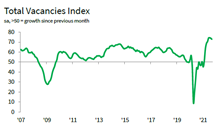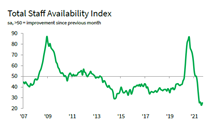 This is presenting a very interesting time for fire and security employers, and also a greater demand for specialist recruiters. Also, at the time I suggested that two types of companies would be winning the talent war. Those that were paying over the odds for salaries and those that are investing in training and development. That still very much remains the case, however, you can add a third category of company to that list. The companies that are also succeeding in the hiring game are the ones that are absolutely clear about their strategy, their mission, their vision and their staff USPs. In other words, they understand exactly why staff work for them and what they enjoy and also how to market that message to the candidates.
As we grow Talent solutions offering, we have worked with a number of companies on engagement and retention strategies that have seen them truly understand their unique offering and then create content or messaging or advertising that targets those candidates of a similar disposition. By being absolutely clear and explicit on their strategy and their offering, those employers are sourcing great candidates that immediately identify with their brand. As we enter into winter with absolutely no signs of the industry slowing down, it's imperative that employers review their branding and ensure that their messaging and content is up to date. If you are reading this and you'd like to find out more then please book a call directly with me.
Elsewhere, it has been fantastic to get back out to the industry shows and events. It's been great to exhibit at ST21 and The Security Event where we met up with so many candidates and customers face to face for the first time in 2 years. I hold my hands up, I said very early on that I thought the pandemic would change the demand for face-to-face events. I am delighted to say I couldn't have been more wrong; I believe the appetite is even greater to get out there and see customers and I look forward to all the events going strength to strength in 2022.
At Zitko it's also been an incredibly busy time. If were not winning awards (Fire and Security Excellence Finalists, Recruiter Insider – Client/Candidate Experience, Vinny Awards – Client Experience), we're still growing. Our International division is now to launch in earnest, looking at growing our Managed Service offering in the US and all our other divisions have added staff to their teams. It's all part of our commitment and our ambition to be the leading Fire and Security solutions provider globally.
Wishing you well for Autumn,
George Zitko
Managing Director
Market Update 25-10-21
Technical: (Phil West – Sales Director – Technical)
As ever, the fire and security industry is busy, with everyone looking to build their teams. End users are pushing work through quickly which is making integrators in particular, very busy. We've seen an especially increased demand for data centre work.
Further to my previous updates (where I was recommending employers really look at their talent attraction, interview process and recruitment strategy) we've seen some companies thinking outside the box and trying new approaches to finding and attracting their new staff, and with great success.
For example, we recently completed retained search projects for Kore Systems and Reliance High-Tech, both of whom had multiple positions they wanted to fill as quickly as possible, but of course with the right people. By working this way Zitko were able to fully market these opportunities to the industry (which had great success with inbound applications) and search in more depth for those who search more passively. The outcome? Several successfully filled positions with the right people, in a reduced time frame and at no extra cost.
Perhaps a different approach in a different and difficult market is what your company needs to? After all, doing the same thing and expecting different results is the definition of insanity is it not?!
Sales: (Dave Geddes – Sales Director – Sales)
In short – very busy, very positive for the industry and lots we're working on.
Whilst August was slow – holiday season on steroids it seemed, September was exhilarating. With the return of trade shows & exhibitions, there was lots of activity & positivity in the market. Maybe August was the lull before the storm, really waiting to see if there was an acceptance and commitment from the industry to get back to normal, certainly at TSE it seemed that way.
TSE was a great event, with our stand right at the entrance, we saw first-hand how many people were at the show and we enjoyed being part of it. From there we have had ST21 in Belfast & Glasgow and ISE at Olympia, each equally well attended and proving that we're fully back up and running, great news!
Building Management / Digital & Smart Buildings a hot topic. Our team visited DTX + UTX & The Smart Building shows at Excel and it is an extremely active market. We have been working with a couple of global technology vendors across Europe with a real focus on Intelligent buildings, IOT & Connected Technologies.
Contracting: (Laura Raven – Managing Consultant – Contract)
The contracting market is busier than ever, which has seen some shortages of skilled labour. Many of our clients had taken the advice we gave over summer and pre-booked their favourite engineers for the remainder of the year to combat this. If you didn't pre-book your usual engineers, and need resources, get in touch.
We are currently delivering a number service engineers to various clients. We have a couple of different ways you can utilise this service. From day rates to price work and even us taking on and managing the whole process via Zitko Service Desk. Contact Laura raven for more info on this.
If you are a contractor looking for work, please get in touch. We are able to offer some great work assignments currently, you also get weekly pay and even access to manufacturer training. The contracting division has become so successful so quickly as we believe in a mutually beneficial relationship, you are more than just a number to us. Give one of us a call and find out.
Talent: (Priya Vencatasawmy – Senior Consultant)
Through the initiative, we have welcomed new businesses who have joined us as founding employers on Talent.
Talent is collaborating with various divisions within Zitko to offer a structured solutions to the shortage in engineering.
We continue to partner with professional technical bodies, universities and promoting diversity.
We are approaching our year anniversary since our launch, with successful placings and high retention rates.
Talent has been nominated for the 'Training Initiative of the Year' for the Fire & Security Excellence Awards.
Looking for more Trainee Engineers to join your business? Follow this link for more information: Discover the key to your security tech talent challenge | Zitko Talent
Resourcing: (Terri Lalonde – Resourcing Manager)
The candidate shortage in the fire and security market really seemed at it's worst this summer, but we are starting to see that change, coming into the autumn.
The HIS Markit survey for September mirrored our findings, that there is no shortage of jobs out there, but candidates have felt a reluctance to move.
However, the good news is that the holiday season has passed, people are more vaccinated than ever before, and the end of the furlough scheme, people are starting to feel more confident about looking at new job opportunities.
Salaries and benefits are becoming more of an issue, and the pressure on employers to reward their employees well or risk losing them, is already a reality for many. The ability to have the flexibility to work remotely is another motivation for moving on, particularly for those faced with commuting full time once again.
As a company always aspiring for excellence in client and candidate service, Zitko invested in software earlier in the year, to gain feedback from clients and candidates throughout the recruitment cycle. The results have been fascinating, and for the most part, positive. There are always things we can do better, and this really helps narrow down what we need to do and where, as advised by our experts… you.
For more information, resources, guides and tools, please visit our insights page.